Written by Laura Chaney, daughter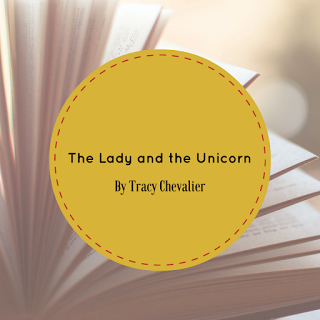 Welcome to Week #3 of our Fiber Arts Fiction Friday (FAFF) series! This week our novel focuses on a needlecraft that is more unusual nowadays: tapestry. Many of our readers will recognize the author, Tracy Chevalier, as the artist of The Girl with the Pearl Earring. This week's books The Lady and the Unicorn takes us back in time to Europe in the late 1400s.
Summary:
The Lady and the Unicorn
is set in Europe (Paris and Brussels) in 1490, and tells a fictionalized story of the inception, design and creation of the set of six tapestries on the theme of the Lady and the Unicorn. Told from various perspectives throughout the book, Chevalier gives the reader a glimpse into an esteemed household of France and the labor of love that went into creating these tapestries.
My Thoughts on This Book:
This novel reads slightly deeper and more complex than some of the other books on our Fiber Arts Fiction list, perhaps as it's written by an author well known for her historical fiction, as compared to works that are part of the cozy, chick lit or contemporary fiction genres.
Although slightly more risque than many other fiber arts fiction in the descriptions of secret assignations, it also does an outstanding job of demonstrating many of the restrictions and limitations that were placed on women at this time. Given that fiber arts are often though of as "women's work," this novel reminds us all that many fiber arts such as tapestry, wool work and weaving were originally created through tightly organized and male led artisan guilds. While the female characters in The Lady and the Unicorn certainly demonstrate their power and authority over the household and female children, it's also clear that their power is limited and subject to overruling by their male counter parts.
Want your own copy? Find it on Amazon here through our affiliate link. Affiliate links to things we love help support Prairie Sewn Studios!