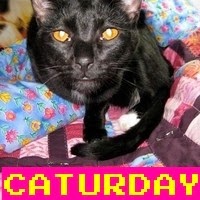 Welcome to Caturday. Where we bring you ridiculous pictures of cats "helping" their humans quilt, sew, and craft.
This week's Caturday photo shows what happens when both parts of Prairie Sewn Studios are out crafting and leave the helper cats in charge! Catcat needed a place to take her regular 8:30 pm nap and curled up on my brother Bill! This is even more exciting as it's the first time Catcat has EVER done this with him!
See that little paw hanging out off his shoulder? Classic Catcat sprawl.