Written by Laura Chaney, daughter




We're gearing up for some super exciting things this fall, so we thought we'd kick it into gear with Throwback Thursday. Every Thursday we'll feature a post from the blog archives that we think is still useful today!
We're kicking off a new series called Quilter's Tool Chest where we share our favorite quilting notions, tools and gadgets.
Our first ten posts will focus our top recommended notions, tools and gadgets for new quilters. These are the perfect items to help a new quilter start building her quilty tool chest. If you're already a crafter these could be great tools to add to your arsenal to crossover and try a new craft.
First up, a rotary cutter.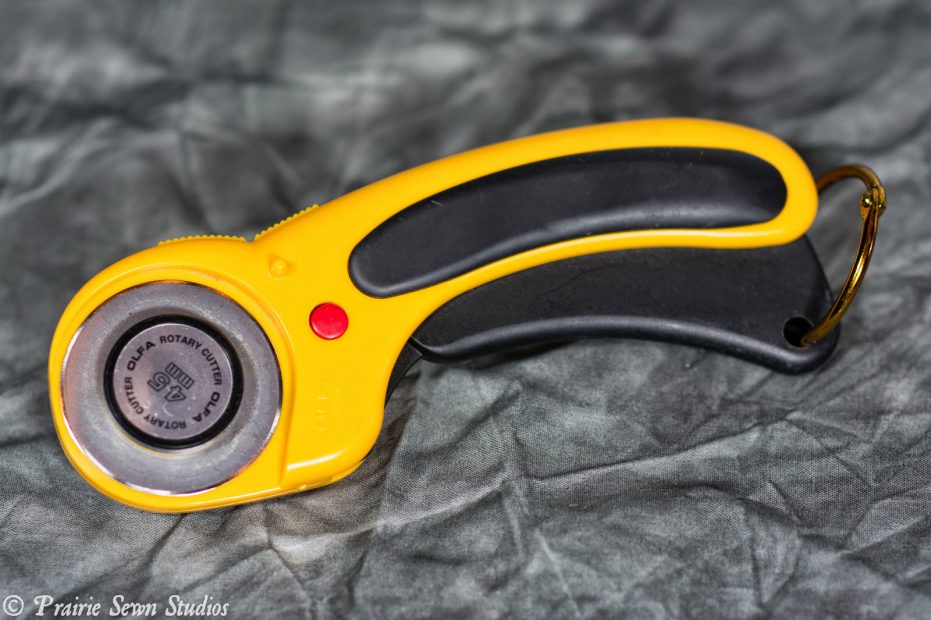 45mm Rotary Cutter
Rotary cutters are a relatively new invention to the quilting and sewing world, first introduced by Olfa in 1979. They revolutionized the way that quilters, seamstresses, tailor and crafters could cut fabric quickly, smoothly, and accurately.
We recommend a rotary cutter for a couple of different reasons.
1. It is SO much faster than scissors, especially for cutting long strips of fabric. Paired with a acrylic ruler (post coming soon!) you can quickly cut across the entire width on a bolt of fabric. Curves are no problem, either.
2. It improves your accuracy, both with long pieces of fabric and with smaller pieces. You can make cuts smoothly, leaving a cleaner edge than the jagged edge scissors tend to leave.
3. You can cut through multiple layers of time at a time, each layer with a clean smooth edge.
Rotary cutters come in lots of sizes, typically measured by its diameter in millimeters. Different sizes are better for different thing. If you're just starting out the 45mm size is a great place to start. It cuts through about four layers of fabric with ease, but is still small enough to easily go around gentle curves. The blades are replaceable, so you can just pop a new one in whenever you notice that the blade is getting a little dull or sticking to the fabric.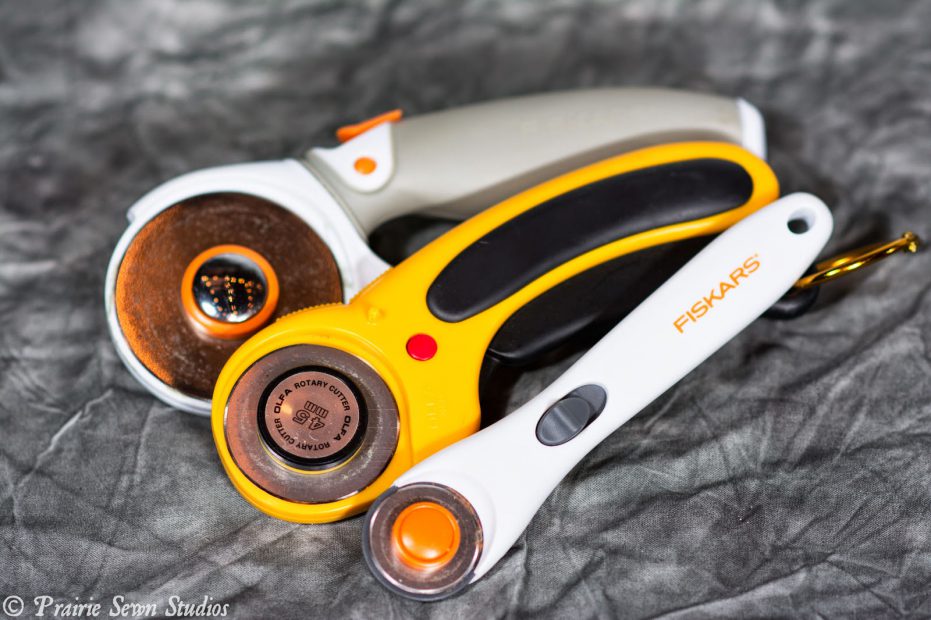 60mm, 45mm, 28mm Rotary Cutters
One word of caution is that they are SHARP. Each brand, size and style has its own safety features that allow the blade to be safely stored while not in use. I always keep my rotary cutter with the blade stored in the locked position when I'm not actively using it. It's far to easy for an open rotary cutter to be bumped off a table by a pile of fabric (or a helper cat) and the last thing you want is that sharp blade landing on your foot!
Here are a couple that we recommend. Both Olfa and Fiskars are solid brands within the wold of quilting notions. I own both of these rotary cutters in this 45mm size and they're both great to work with.
Next week we'll talk about an important tool that goes hand in hand with a rotary cutter, an acrylic ruler!
All product links are Amazon affiliate links which help support Prairie Sewn Studios. No compensation was provided for this post, just sharing some products we love to use to sew, craft and quilt!


This content was originally published on Prairie Sewn Studios on January 19, 2015, and is being reproduced here for Throwback Thursday. #TBT