Written by Linda Chaney, mother
How time flies! It feels like we just finished posting the final 12 week Countdown to Christmas projects. We hope you enjoyed making some of these. In fact, I just used the Woven Hearts project to make wonderful Valentine's Day hearts filled with chocolate!
As I look back over the past year, a lot has happened:
an unexpected gallbladder surgery in early spring (I'd rather give birth to 12 children than go through that pain again!);
my husband's chemotherapy for the return of his cancer (so far, so good as he is now on a maintenance program that isn't as nearly debilitating);
a wonderful vacation to San Francisco to see both our children in October (missed our trek to Longs Peak campground but was happy the doctor finally released my husband for this trip);
creating posts for the Countdown to Christmas projects (thanks to Laura for posting those blogs!);
and celebrating Christmas with our children, Laura and Bill, in San Francisco (first time away from Omaha for the holidays in quite a few years).
The break from posting was really needed to re-energize for the coming year. Although I had hoped to start a bit sooner (thank you to the individual behind me on the full flight home in January for giving me a horrendous respiratory infection), I now feel excited to start new projects and finish others. I wasn't completely idle, though. I took up my crochet hook and made quite a few dishcloths (every one used a different crochet stitch) and some hand-warmers.
Colorful hand-warmers.
I would like to tackle a sweater project, but that will have to be put on hold. I sometimes have issues with stitch consistency; that's why dishcloths are so great!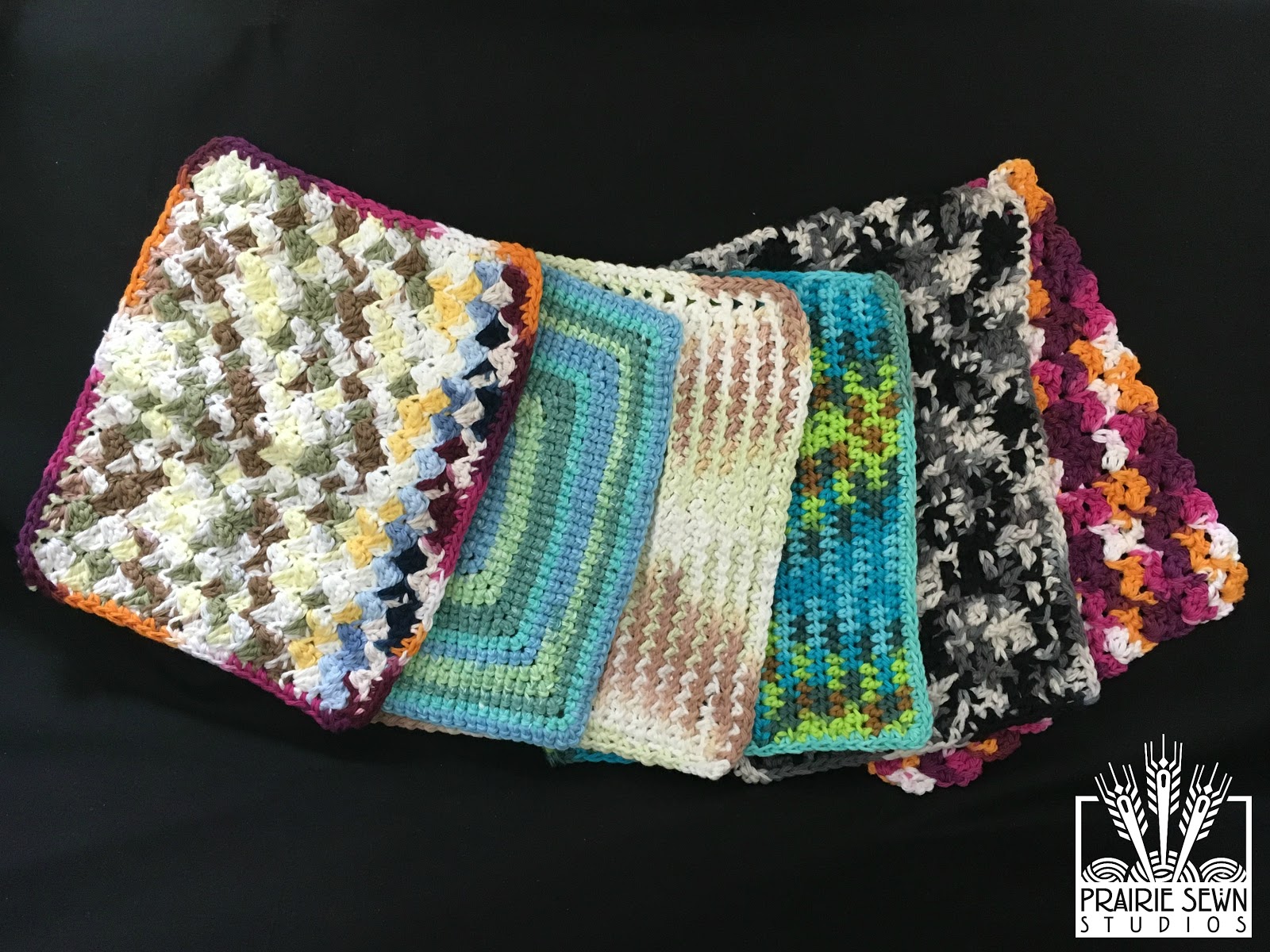 Dishcloths, with glorious stitch consistency.
One of my goals this year is to machine quilt the numerous quilt tops I have pieced. In addition, I'm working on several Easter quilts and containers and have joined the The Splendid Sampler group to create a mystery quilt based on 6″ blocks released twice a week. Check out this project, especially if you like sampler mystery quilts or just want to learn new techniques. I will be choosing fat quarters (about 35) from my stash. It should be a lot of fun!
Hope you had a wonderful holiday and started the new year with your list of things to accomplish! Good luck and Happy Stitching!