Written by Laura Chaney, daughter
We've had quite a few "firsts" for us on the blog so far in 2015, including our first giveaway and our first link-up parties! Today we're excited to share ANOTHER new first coming up in April, our first Blog Hop!
If you're new to the wonderful world of blogging, a blog hop is when several blogs in a row blog about something the same, or on a given theme. The idea is that readers can "hop" around from blog to blog to not only learn something new or hear about a new book, but also to virtually "meet" some other bloggers who share a passion for something similar.
Our blog hop is all about celebrating the one year anniversary of the publication of our book Contain It! English Paper-Pieced Style Accessories! We can't believe it's already been a full year since it came out from the American Quilter's Society.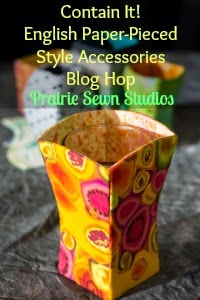 Below is the full schedule of the blogs where the book will be featured, and each blog will also be giving away a copy of Contain It! to its own readers.
Even before the hop itself, we definitely recommend visiting the participating blogs. Each and every one of these women is super talented and creative, and sharing their work with the world.