Written by Linda Chaney, mother


Hi everyone! It's my turn to share a peek of what's up on my design wall. Sometimes I see a pattern and then see a fabric I really like and think to myself, I wonder what would happen if…… Thus began my journey using Moda's Slice and Dice fat quarter pattern with French Quarter fabric by Dover Hill for Benartex.
The pattern was given to attendees at CUAQ Therapy last month (February) at Cut Up and Quilt store in Council Bluffs, Iowa. Participants can make the quilt for the next CUAQ Therapy session; unfortunately I won't be able to attend the session this month.
I saw this new fabric in the shop and fell in love with it. The scientist traits came out and I decided to experiment. The Slice and Dice pattern calls for 6 light fat quarters and 6 dark fat quarters; however, I opted to use one fabric as both light and dark (the French Quarter fabric). The additional fat quarters were in shades of green or persimmon, picking up some of the shades of colors found in the original French Quarter fabric. The other requirement was that the additional fat quarters had to come from my stash.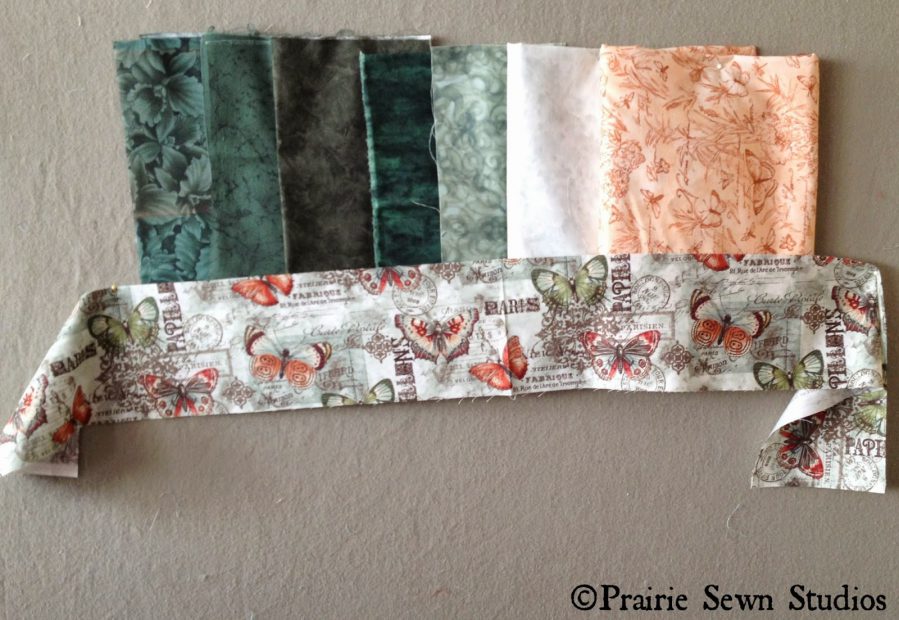 I'm still not sure how this experiment with colors will end, but it has been an interesting challenge. What I thought would work as light colors has not worked out as expected. I still need to make more blocks and will continue to use my design board as I arrange and rearrange blocks with different shades of green and persimmon. I'm also always open for suggestions!
Laura here again…
Mom's design wall is very cool, and based on recommendations Kaffe Fasset's lecture we attended a few years ago in Paducah. For more information about it, see this post about
creating a design wall
.
Join the newsletter