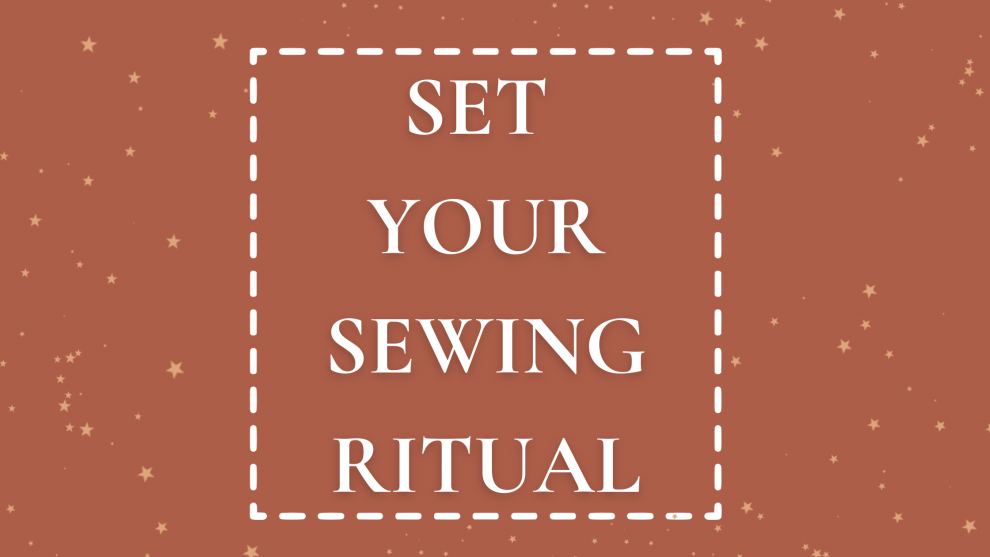 My sewing space is also my home office. While my fabric, cutting table, and sewing machines take up most of the available real estate, I also have space where I can sit on my laptop for Zoom meetings when I work from home. Having a room that serves a dual purpose like this can make it a challenge to switch from "work mode" to "sewing mode." 
To help make that transition, I've been working on developing a "sewing ritual" that I run through each time I sit down to sew. If I'm sewing right after a day that I've worked from home, I'll even walk out of the room, turn around and come right back in but this time to begin my sewing ritual!
I'm still experimenting with adding to and polishing my ritual, and my guess is that even once I establish a baseline ritual I'll enjoy tweaking it as the seasons or my sewing projects change.
Here is my current ritual: 
Walk through the door and make sure all of the lights are on. It's over 100 F in Las Vegas right now (welcome to desert life) so I'm keeping the shades closed against the summer sun. I'll open them up again when the temperature drops in the late fall. 
I light a scented candle or turn on my essential oil diffuser. Right now my favorite candle is Pineapple Float from Walter and Rosie; it smells just like a pineapple dole whip ice cream cone from Disney World! I'll usually set an alarm on my phone to remind me to blow out any candles later.
I'll put on something to listen to. I have this DOSS Bluetooth speaker that I'll use to listen to music or audiobooks from the library. I also have my iPad set up next to my machine to watch easy-listening shows on Netflix; right now I'm in the middle of Iron Chef! As a bonus, keeping the iPad set up and charging makes it easy to Facetime and sew with Mom on the weekends.
Finally, I'll set a goal for my sewing session. How many units do I want to complete? How many rows to piece together? How many hexagons do I want to baste? I'll usually end up going over my goal, but I've found I really like having something tangible to work towards in a sewing session. This is especially helpful when a project has lots of pieces or steps, or when I feel like I'm not making as much progress as I want.
Here are a few other things I've thought about adding to my ritual:
Taking a picture of my work in progress at the beginning and end of the sewing session to visually document how it's moving forward one stitch at a time
Putting on scented lotion at the end of the sewing session. If I've been handling a lot of fabric my fingers sometimes feel dry afterwards (this might also be another desert life problem). My go to lotion is one from Aveeno with lavender, oatmeal, and chamomile.
Lint roll my ironing board. Some of its threads, some of its cat hair. None of it belongs on my ironing board.
Set out the work I want to sew during my next session before I end this one. I've been playing with this one as I work to finish up my current Work In Progress: the 2020 Bonnie Hunter mystery quilt "Grassy Creek." I'm at the stage where I'm assembling the units from the clues into rows, and I've really enjoyed pre-pinning the rows and then setting out the ones to sew tomorrow. It has really made ritual #4 easy, as I always have a baseline goal set out from the previous day's sewing session. 
Give It a Try!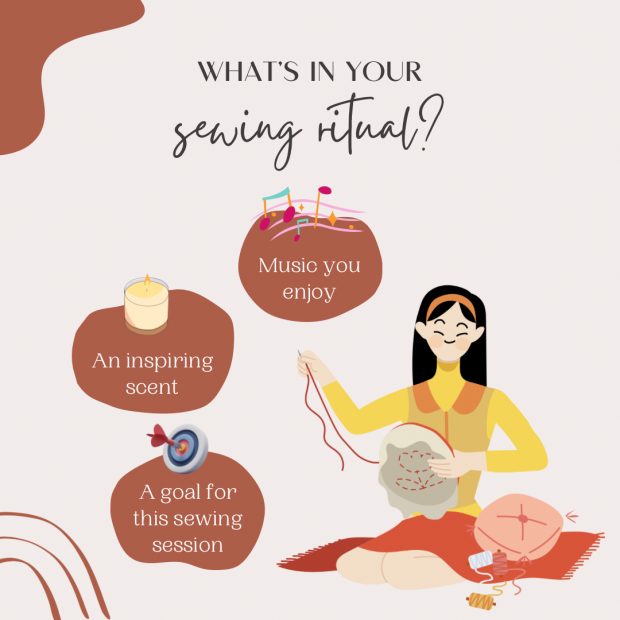 Try building out your own sewing ritual! Think about how you want to feel while working on a project, and then what steps you can build into a ritual to help you get to that space. You may find that setting a sewing ritual will also help improve your quilting productivity!
Is it important that you feel creative? Maybe add a 5-minute sewing or design improv to get your creative juices flowing. 
Is it important to feel productive? Visually track your progress so it's easy to see how much you're accomplishing! 
Is it important to feel relaxed? Think about what scents, sounds, and sights bring you inner peace and add them into your ritual. 
I'd love to hear your ideas for ritual components in the comments below!
Disclosure: Some of the links above are affiliate links. This means that, at zero cost to you, I will earn an affiliate commission if you click through the link and finalize a purchase.
Join the newsletter