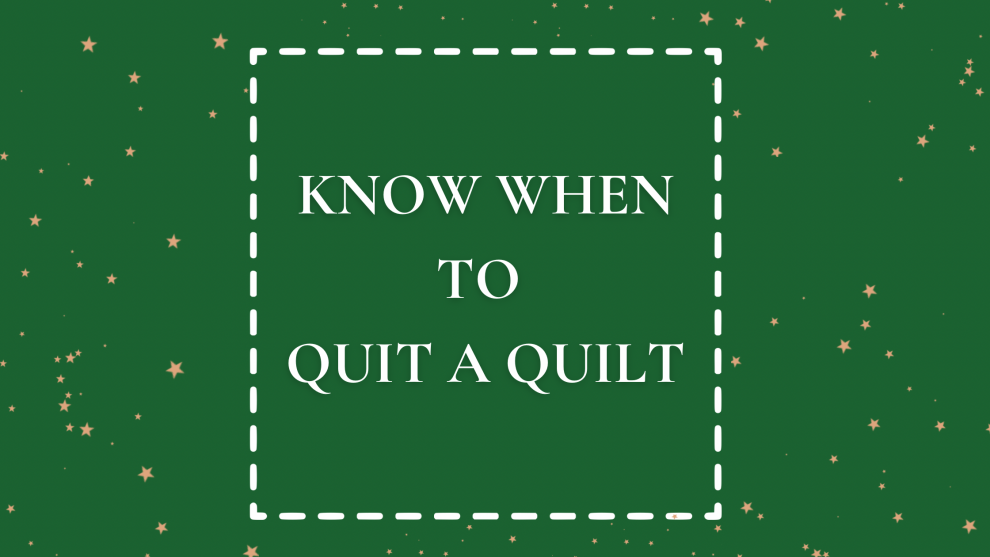 You don't have to finish every quilt you start.
Let me say that louder for those in the back: YOU DON'T HAVE TO FINISH EVERY QUILT YOU START.
Quilting is not a "mandatory" activity. There are no "quilt police" who will come looking for you if you decide not to finish a quilt. You get to determine what projects you start, what projects you work on, and what projects you finish.
How to Know when to Quilt a Quilt
Quilts take a lot of time, work, and money; not to mention blood, sweat and tears! Sometimes we'll stick with a project we no longer enjoy just out of obligation to the work that we already put in. This is called the sunk-cost fallacy: the reluctance to abandon a project after investing heavily in it even though it makes more sense to throw in the towel now without wasting any more effort or energy.
When you find that UFO that you just are not excited about finishing, here are a few questions to ask yourself:
When did I start this project?
Have I ever worked on this project after that?
When was the last time I worked on it?
How does thinking about spending the next two hours on this quilt make me feel? Happy? Anxious? Annoyed?
Did I make a commitment to anyone else to finish this quilt?
What's the worst that could happen if I don't finish this quilt?
What could I gain by not finishing this quilt?
Are there other things I could do with this partial quilt or quilt blocks?
Any single one of these reasons (or any other reason!) is all the permission you ever need to quit a quilt.
After You've Decided to Quit a Quilt 
Once you've made the decision to quilt a quilt, try and stick with it. Here are a few ideas of what you can consider doing with the fabric, blocks, or partial top.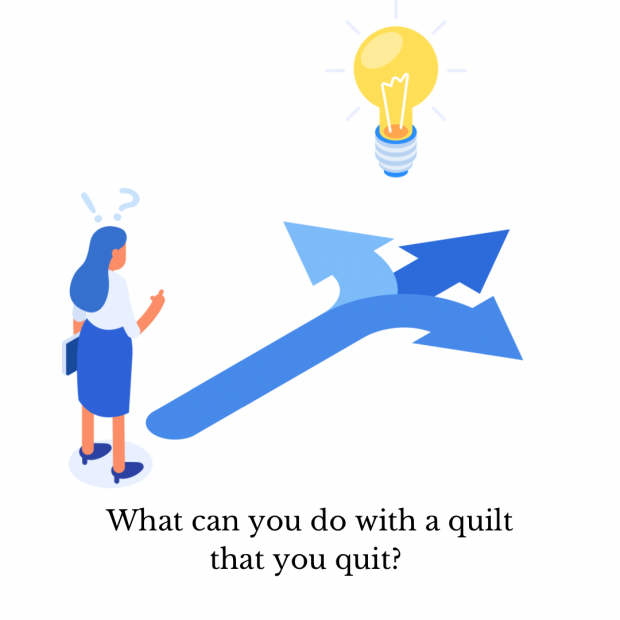 Restock into Your Stash.
Once you determine that you're simply not going to finish a project you need to disassemble any project materials (fabric, matching thread, patterns, stabilizer, etc) and either restock them into your stash or throw them into the trash.
Refold your fabric as needed and add it back to the right section of your stash, put any special tools into your regular sewing toolkit and add the thread back to your thread rack. You can still keep any patterns, templates or directions; I like to label them and store them inside of a plastic sleeve in a big three-ring binder along with all other loose-leaf patterns.
Donate Partial Blocks
Think about donating the unfinished blocks to a quilt guild or sewing club where members are willing to finish orphaned projects and donate the finished quilts to charity. If you have leftover supplies or materials that could be used to finish any remaining blocks, consider donating those along with the blocks too so that the rescue quilter can pick up right where you left off, completing the quilt with matching fabrics.
Repurpose Completed Blocks
Get creative with using your partial blocks! Think of other ways you could use them, either by putting them together to create a brand new design or by using them in a different (and likely smaller) project altogether.
Small home projects (like a 3-D English paper-pieced vase!) and bags are perfect for using up blocks that might otherwise go to waste. You could also add them to a sweatshirt or jacket, creating a quilted clothing item that's unique to you!
Send Them to the Trash
If you have partially completed blocks that you don't want to finish it's ok to just throw those blocks away. They aren't going to magically complete themselves, and if you've moved on then it's ok to also let your partial blocks move on.
Salvage any usable fabric by cutting it down into scrap size pieces, and toss any unusable pieces. Also be on the lookout for any supplies that have seen better days and need to be thrown away as well. Don't keep supplies that have gone bad; just throw them away and move on.
Give It a Try!
Do you have a quilt that you just don't want to finish? Remember, you don't have to finish every quilt you start! Take 15 minutes to think about ways you can repurpose the work you've already done, and then move forward and quit that quilt!
Join the newsletter