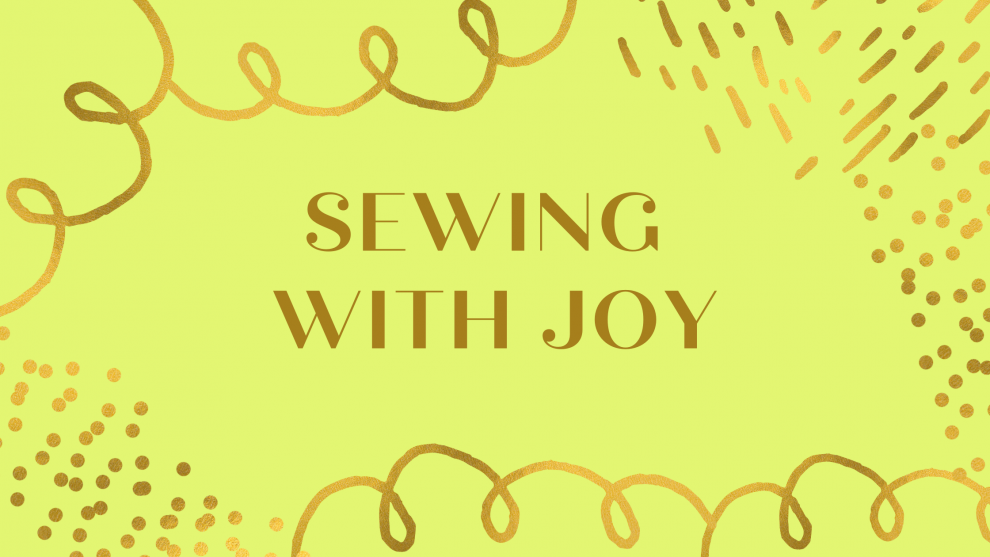 A few years ago I read the book The Life-Changing Magic of Tidying Up (<– affiliate link) by Marie Kondo. The methods outlined her book have become so popular that they even made a Netflix series!
One of the main tenets of Marie Kondo's system is looking at each object in your house and asking "does this spark joy?" If you answer yes, then you should find a way to keep that item in your home. But if you answer no, then it's probably time for that object to leave your home.
But wait… I thought this was a quilting and sewing blog?
Don't worry, I'm not going to start throwing household organization tips at you. But I do think that this same question can help inspire the quilting and sewing projects that we choose to work on.
Here are two ways to use Marie Kondo's methods in your sewing practice.
Evaluate Your Current Projects, WIPS, and UFOs
This is really a pretty straightforward application of Marie Kondo's system, and there are only three steps.
Step 1 – Gather all of your sewing and quilting patterns into one spot.
Most of us are able to do this pretty easily if we've kept all of the patterns in our sewing space. They don't need to be organized at this point, just all together in one big pile.
Step 2 – Evaluate each pattern, one at a time.
One at a time, pick up each pattern and ask yourself the magical question: "Does this spark joy?"
If you're struggling, try using some of these questions as prompts:
Why did I buy this pattern?
Is this a sewing or quilting technique that still interests me?
Is the finished project intended for someone else?
Of all the patterns in the world, do I still want to make this one?
Am I willing to put the time (or the blood, sweat and tears) into making this project?
Step 3 – Sort the pattern into the appropriate pile.
If you find the pattern DOES still spark joy, then set it aside in a pile to be organized and put away later.
If you find that it DOES NOT spark joy, set it aside to be sold, given to a friend, donated, or even thrown away if it's in bad shape.
A Joyful Sewing and Quilting Practice
A second way to think about joy in your sewing space is to ask if you feel joyful when you're sewing.
Let's pause here for a moment to clarify that this doesn't mean that you will or should feel joy during every moment of your sewing. There are going to be points that don't match, seams that don't align, and that awful moment when you realize you are 3″ short of your border fabric.
Moments like this are more likely to spark frustration (and possibly screaming) instead of joy. But we're not talking about these small moments when thinking about a joyful sewing practice.
Instead, ask yourself these questions:
When I walk into my sewing space, do I feel excited to work on my current project?
Am I working on projects that make ME happy, as compared to sewing projects that make others happy?
Am I working on projects that match my current sewing skills?
Am I challenging myself by learning new sewing techniques and skills?
Can I tell the difference between having a bad moment with a project, and having a bad project or a project with badly written directions?
Do I have the tools and material I need to complete the projects I want?
These questions aren't intended to make you evaluate all of your life choices, or judge you on the amount of time, money, and energy that you can spend in your sewing practice.
They are, however, intended to provide an opportunity for self-reflection to see if there are ways you can improve your sewing practice to make it more joyful for you. This "joy-improvement plan" will look differently from person to person.
One sewist might find that she LOVES her current project, but needs to spend some time cleaning her sewing studio so that she feels less overwhelmed by clutter when she sits down to work.
Another might realize that she's always sewing for other people, but never for herself.
A third might discover that she's incredibly tired of making nine-patch blocks, and is ready to tackle her first project with triangles or curves!
How can you sew with joy?
As with everything in life, your mileage may vary when you evaluate your sewing patterns and sewing practice from the perspective of sparking joy. Maybe some of this is helpful (like going through your patterns), but not all of it.
Take this as an opportunity to spend just a little time thinking about your sewing, and take whatever steps you can to move towards an intentional sewing practice that sparks joy with each and every stitch you take.
Share how your sewing sparks joy
We'd love to hear about how your sewing practice sparks joy! Comment on this post to share your thoughts on using Marie Kondo's techniques to evaluate your sewing patterns or sew with joy.
Join the newsletter