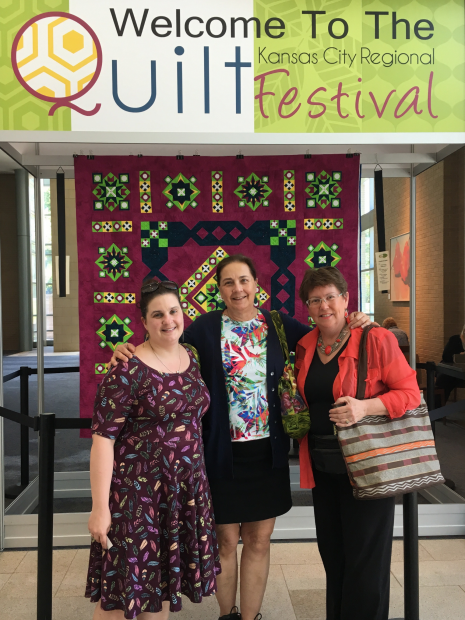 With 1,675 miles between Omaha and San Francisco, Mom and I are always looking for quilt shows that we can attend together. Some of these shows have been out on my end on the West Coast (Pacific International Quilt Festival), but we're starting to find more shows that fit the bill in the Midwest, always within driving distance of Omaha. We have a checklist of experiences we look for when we're choosing what shows to go to, and the Kansas City Regional Quilt Festival (KCRQF) 2019 ticked off all of the boxes for us.
Here are some of the top things we look for in choosing a quilt show to attend:
A multiple-day quilt show
Multiple kinds of quilty activities to choose from (vendors, classes, lectures, performances, juried show exhibits, guild exhibits, meet and greets)
Variety in both vendors in the expo hall, and quilts in the show hall
Easy to access across all fronts: accommodations, parking, show info, food and drink
Now let's take a deep dive into our experience at the 2019 Kansas City Regional Quilt Festival. This was our first time attending this show, but certainly won't be our last! I flew from San Francisco to Omaha and then we drove down to Overland Park, Kansas, where the show actually takes place. The devastating flooding in Iowa and Nebraska meant that our usual highway to Kansas was closed, so we had an adventure meandering down back roads.
As listed above, our first criteria is a multiple-day quilt show. We like to take our time going through the vendors, guild exhibits, and juried show entries without feeling rushed.
For the vendors we always end up doing multiple laps through the show, often returning to the same booths over again to see if new merchandise has been put out or restocked, or because we had a great idea for using something from a vendor's booth, but needed a few visits before pulling out the credit card. A word of caution for this technique of multi-visits to a vendor; if you see something you MUST have, buy it as soon as you see it. There is no guarantee that that piece of fabric, set of sparkling thread or beautiful panel will still be there when you come back around.
Our second criteria is that the show has multiple activities for us to choose from. The 2019 KCRQF had classes (both half and full day), lectures, vendors, special evening programs, a juried quilt show and a multi-guild quilt show.
We kicked off the show by attending a half-day class with Doris Deutmeyer of Fabrications by Doris, learning her amazing technique for layered fabric landscapes and creating our own "Birchwood Forest" right there in class. We're always on the lookout for classes where we can learn a new technique or skill, especially one that we might be hesitant to try on our own. Space was a little tight on the tables, and the room could have used a few more irons (critical for a class using heat-fused bonding), but Doris made everything work and participants left with a forest of their own that was mostly completed.
Our next planned activity was a lecture by Ricky Tims on how he creates his Rhapsody Quilts. Lectures can be a bit stuffy, but we should have known that we'd get the opposite of that with anything from Ricky Tims! A polished presenter, Ricky used a slideshow to demonstrate his techniques, showing both the right AND the wrong way to create a rhapsody design using his method. We followed along and made notes in one of the best class handouts we've ever received; a full-sized booklet on Rhapsody
Quilts including pictures, directions and encouragement at the tricky parts. He had one of his amazing king-sized Rhapsody Quilts on display for everyone to look at, and as always was gracious in taking pictures and signing the class booklet for his adoring fans. It was also fun to hear about his upcoming project, a fiction adventure novel featuring an "over-imaginative girl, an antique quilt, a goose named Gretta, and a cursed kingdom."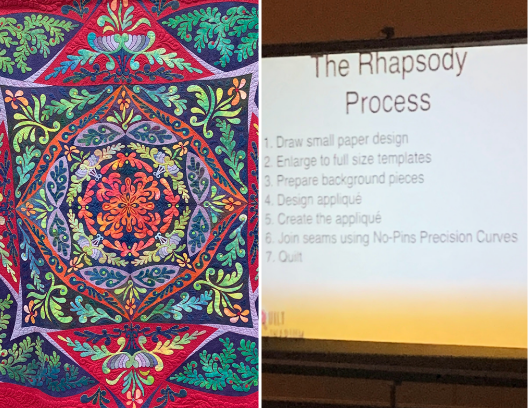 At the end of our Ricky Tims lecture we made an impromptu decision to see if there were still tickets available for his evening show! Mom and I had seen him perform before at the AQS Paducah show, and we were excited to introduce his amazing storytelling and musical performance to our friend who was at the show with us. We even brought her husband along for the ride, and he also enjoyed the evening with Ricky. Ricky always combines stories about his life and his quilting with musical numbers performed on the piano and by voice. Some of the stories and songs we'd heard before, but they were just as funny the second time around. His shows in Paducah always sell out, so I was surprised by the number of empty seats in the audience. We were there on the second night of his performance, but anyone who didn't attend missed a great time. The only disappointing part of the show was that his quilts were not on display. At the previous performance we attended in Paducah they were all hung from rods on stage and lowered strategically as he told their stories during the show. I'm sure it is a major undertaking to both transport and hang his beautiful collection of quilts, but seeing them in person is an amazing experience that can't be replicated on a screen.
Our third criteria is a show that has lots of variety in both the vendors who are exhibiting, and the quilts themselves on display through various themed exhibits.
The vendor selection at the KCRQF was amazing. Having been to a number of quilt shows over the years we've often seen the same vendors over and over again. In some ways this is great, as you can trust that certain vendors will be at most shows, which is nice if you are searching for something in particular that you know that vendor is likely to carry. We were pleasantly surprised to find a number of new-to-us vendors at this show, many who were based in the Midwest and could easily make the trip to Kansas, but who didn't travel to shows that were further afield. This resulted in a few extra laps around the vendor hall, and few more purchases than we might typically make.
The quilt exhibits were a bit less exciting at this show. There are more than 10 quilt guilds in the great Kansas City metro area, so there were lots of quilts displayed in the quilt guild category. It was a refreshing change to see "normal" quilts as compared to only "show" quilts, but the repetition of some of the patterns did get a bit old by the end of the display. It was clear that many of the quilts on display were either part of some kind of a guild class or challenge, or were from a recent pattern or design that has been "on-trend."
We were surprised at how few quilts were in the juried section of the show, and afterwards heard that it had been a challenge getting submissions into the juried category. That said, there were definitely some beautiful quilts on display and the winners were surely deserving of both the prize and recognition for their work.
Our final criteria for attending a quilt show is that it has to be easy. We don't want to struggle with accommodations, parking, show information, class selection, show registration or finding food to eat during the day. We know that's asking an awful lot, but who wants to go on a vacation that is hard?
We lucked out on the accommodation front, staying with a quilter friend who lived just ten minutes away from the Overland Park convention center where the show was held. Many other attendees stayed at the hotel attached to the convention center or were local to the area and thus stayed in their own homes. Parking was a bit tight, and the shuttle bus to a parking lot away from the site only ran on a 30 minute schedule. Although we always managed to find a space at the convention center and hotel itself, we heard that many people struggled with both finding parking onsite and with the shuttle service.
We didn't have any problems with the class selection or registration process. Even though we were completing our registrations across the country from each other, Mom and I both were able to register with ease and received prompt email confirmation of our registration and payment. We did struggle a bit with finding show information, particularly the times that the show opened and closed each day. The information wasn't in the printed show book, and it wasn't until we thought to look on the printed tickets themselves that we were able to find the information.
Food was fairly typical for a convention center, and we ate both onsite and at nearby restaurants depending on the schedule for the day. They did have stations with free ice water available, which was a great feature to keep us hydrated as we shopped!
They had volunteers strategically located throughout the entire convention center with clipboards reading "Ask Me!", making it clear where an attendee could go for help. Everyone we spoke with was both helpful and nice, as one typically expects in the Midwest.
For a show that is run entirely by their crew of hard-working volunteers, the KCRQF was quite impressive. We were never bored, and never found ourselves without something to do, buy or view! Overall, we had a wonderful experience at the Kansas City Regional Quilt Festival, and hope to return for their next show in 2021.