Written by Laura Chaney, daughter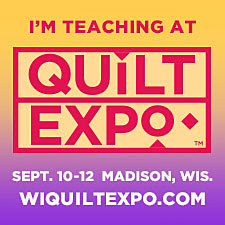 Quick post today to let everyone know that the advance registration for the Wisconsin Quilt Expo is now open! Mom will be giving a lecture each day at 2:30PM. Here's the info from the Advance Registration Guide:
Linda Chaney Contain It! English Paper-Piecing Style Accessories
2:30 P.M. Daily
Based on their book "Contain It! English Paper-Pieced Style Accessories," Linda
will show you modified English paper-piecing techniques used to create durable,
washable, inexpensive and functional one-of-a-kind containers. Beginning sewers
as well as those with advanced sewing and quilting skills can enjoy accessorizing
any space.
Tickets are already available on the Wisconsin Expo Site. Will you be at the show?