Written by Linda Chaney, mother & Laura Chaney, daughter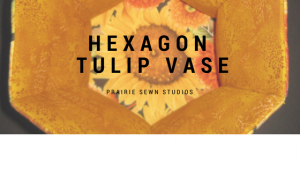 Nothing sets the scene for your holiday dinner like a beautiful vase of flowers. This Hexagon Tulip Vase helps you take your flower game up a notch with a unique tulip shape with fabrics selected to match the holiday decor. It's also the perfect way to bring flowers as a hostess gift, leaving your handmade vase behind for the recipient to enjoy again and again even after the flowers are gone.
Supplies Needed:
Printed copy of Template 120, hexagon base (be sure to check it printed correctly by measuring the 2″ square on the pattern piece)
2 Fat Quarters (18″ x 22″) of Fabric (one for the inside of vase, one for the outside)
1/4″ Fusible Tape (we like Steam-a-Seam 2)
Iron with Steam
Coordinating thread
Basic sewing supplies (needle, scissors, thimble, wonderclips or pins etc)
You can do some really nifty things with the large size of the hexagon base. It's the perfect place to add a surprise focus fabric or other fussy-cut design, like with this beautiful sunflower fabric.
Directions:
     Template 10 – Inner Side – Cut 6 Stabilizer Pieces
                                                Cut 6 Fabric Pieces
     Template 11 – Outer Side – Cut 6 Stabilizer PIeces
                                                 Cut 6 Fabric Pieces
     Template 21 – Inner Base – Cut 1 Stabilizer Piece
                                                 Cut 1 Fabric Piece
3. Using Template 120 that you printed, cut the following pieces. Remember to use the 2″x2″ square on Template 120 to ensure your pattern printed at the correct size.
    Template 120 – Outer Base – Cut 1 Stabilizer Piece
                                                   Cut 1 Fabric Piece
4. Follow the directions for vase construction that begin on page 35 (Medium Concave Vase). Remember that all of the 3-D containers are constructed in the same way with these basic steps:
Make the templates
Cut the stabilizer pieces
Cut the fabric pieces
Fuse the fabric and stabilizer pieces together
Assemble the Octopus
Sew the Octopus (hand or machine-see pages 13-15)
Complete the container with the outside base
Review the detailed directions on pages 9-16 with any questions. If you want to make sure the Octopus looks right, take a peek at the Concave Vase with a Hexagon Base diagram on page 42.
5. Decide what you'll do with your new vase! Keep it for yourself? Or give it as a hostess gift when you attend Thanksgiving or another holiday party? Either way, be sure to post your pictures on the Prairie Sewn Studios Facebook Page or email them to us at contact@PrairieSewnStudios.com.