Written by Laura Chaney, daughter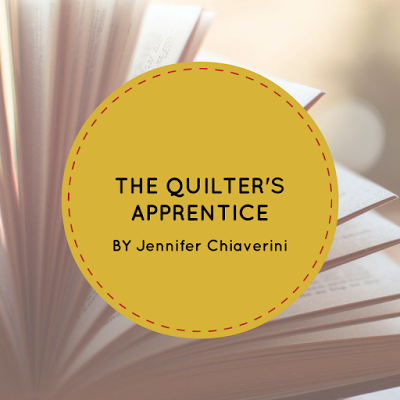 Welcome to Week #2 of our Fiber Arts Fiction Friday (FAFF) series! This week we turn to an author who has reached many quilters with her Elm Creek Quilt series, Jennifer Chiaverini. There are currently 20 novels in this series, plus a handful of short stories, and we'll start at the beginning with The Quilter's Apprentice.
Summary:
The Quilter's Apprentice is the first book in the lengthy Elm Creek Quilt series. A young couple, Sarah and Matt, move to the town of Waterford, Pennsylvania for Matt's new job. As Sarah struggles to find a job in her field, she takes an odd-job helping the elderly Mrs. Sylvia Compton go through the family estate and prepare it for sale. In exchange for this work, Mrs. Compton promises to teach Sarah how to quilt.
As Sarah helps Mrs. Compton sort through the rooms in the house, stories and memories emerge. Ghosts from the past emerge as she struggles to come to terms with the direction her life as taken. Through her tenuous yet growing friendship with Sarah, Mrs. Compton takes the first steps in moving from the memories and tragedies of the past into the possibilities and fortunes of the future.
My Thoughts on This Book:
Similar to
A Single Thread
which we highlighted last week, this series begins with a "fresh start" motif. I think this is what is part of the draw towards many (although certainly not all) novels with a fiber arts twist. It's easy to identify with both Sarah's struggles determine the path in her life yet to come and Mrs. Compton's struggles to come to terms with the path her life has already followed, and her power to change its direction.
This novel introduces a broad cast of characters from the town of Waterford, and you'll look forward to the other books in the series to you can learn more about their lives, as well. It also takes a jab at those who think that there are (or should be!) quilt police using the various quilt guilds and its members. It tackles the oft-sticky debate around hand versus machine sewing and quilting, picking up the tension that arises when someone declares that something isn't a REAL quilt.
Want your own copy? Find it on Amazon here through our affiliate link. Affiliate links to things we love help support Prairie Sewn Studios!