Written by Laura Chaney, daughter
Now that you Know your UFOs and have a way to keep track of them, it's time to get them wrangled and organized into a system that will allow you to choose your project and get cracking! There are two things to keep in mind: what should you keep with each UFO and how you will organize all of your UFOs.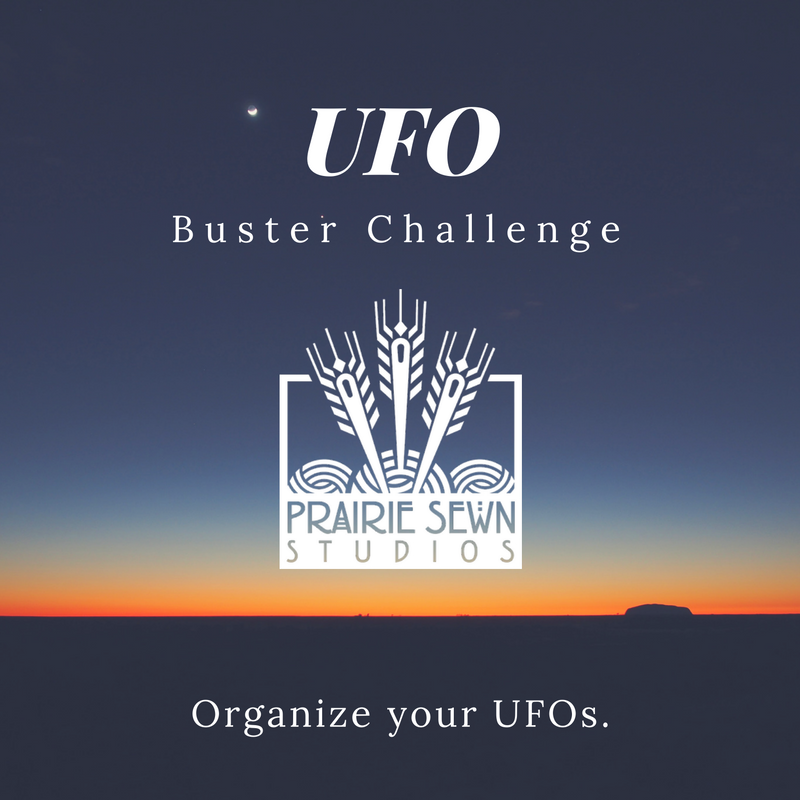 Make UFO Kits
If you're like me, sometimes the biggest impediment to starting work on a project is not having all of the necessary materials and supplies together. We're going to make sure this doesn't happen with your UFOs by pulling all of these items together to be stored with the UFO itself. The exact contents of your UFO kit will necessarily vary from project to project, but here's a list of items to consider.
The UFO itself. 

This might include cut pieces and pieced blocks, or even fabric that hasn't even been cut into yet.
Border fabric and backing fabric. 

If you've already chosen these fabrics be sure you're storing them with the UFO. Nothing is more frustrating than going to work on a project only to discover you (or worse, someone else in your household!) has absconded with the perfect piece of fabric that you'd mentally earmarked for the backing.
Remember that this is intended to help you make progress on your UFOs, not restrict your creativity. It's not a big deal if you change your mind about a fabric selection while working on the UFO. Just make the swap and keep on working.
Coordinating thread. 

If you have selected a special thread for piecing, perhaps in a matching or neutral color, be sure that's in the kit. Likewise, if you've already discovered the perfect thread for quilting your final project add that in, too.
Project specific tools or notions. 

This would be anything that you purchased to use with this specific project, that you're very unlikely to want or need for a different project. A great example of this is the clothing tagging gun that I purchased during a Stack'n'Whack class with Bethany Reynolds.
Any additional project specific materials or embellishments. 

This could be anything from the double-fusible fleece you purchased to make a specific purse, or the little seashell buttons you purchased for your Little Mermaid themed art quilt.
The pattern or instructions. 

If it is a standalone pattern, go ahead and stick the whole thing into your kit. If it's a pattern from a book, add a piece of paper that reminds you of which book, and what page the pattern is on. If you store downloaded PDF patterns, remind yourself where you can find on your computer.
Project notes. 

I tend to scribble a lot of things down on paper when I'm first starting a project. This is anything from a rough sketched layout, to full-on dimensions for strip cutting, or indications of color choices. These are all formed during that initial phase of "New Project Energy" and can be invaluable when you're ready to pick the project back up again; not only for the information they contain, but for a way to add that shot of energy back into your UFO.
Organize your UFOs
Now that you've gathered all of your project supplies together it's time to get them contained and stored in a system that works for YOUR own space limitations. Here are a few things to keep in mind:
Protect the UFO. 

Use a storage system that keeps your UFOs protected from extreme heat, dust, pet hair, and grimy fingers.
Use a clear or see through storage container. 

We'll talk about labeling in a minute, but sometimes just being able to get that quick visual take on the contents of a box is enough to help your brain remember exactly what's in there.
Label, but don't go overboard. 

Take a minute to think about what information you want need to be able to grab the right project from your stash. If you track your UFOs with one of the ways we suggested in the previous post you might need limited information on the project kit itself. A pattern name, recipient name, class title or even ID number from a spreadsheet (if you tend to go overboard with tracking like me) is sufficient.
Consider your space limitations. 

This is perhaps the most important consideration of all. It doesn't matter how many fancy plastic bins that you use if you're working out of a closet with absolutely no space to stack them. Think outside the bin and check out our UFO and Project Storage Pinterest board for ideas.
UFO Buster Challenge Assignment
Organize your UFOs! But don't let uncertainty slow you down too much here. If all else fails, grab some 2 gallon Ziploc bags off of Amazon or at the grocery store, make your UFO project kits, label them with a permanent marker and neatly pile them into a designated "UFO Box."
Have you downloaded our UFO Challenge Workbook? If not, sign up below to get instant access to this printable workbook that can help you attack your UFOs!
Looking for other posts in the UFO Buster Challenge?
Here is the schedule for this series:
January 23: Organize Your UFOs
January 30: Make a Plan of Attack for your UFOs
February 6: Find Time for your UFOs
February 13: Don't UFO alone!
February 20: UFO Buster Challenge Link-Up and Drawing