Written by Laura Chaney, daughter
Happy Friday, everyone! I've been out in Washington, D.C. in training for my day job all week. I was hoping to get some hexagons basted, but I've been wiped out each night after long day of training. I'm excited to be headed home to San Francisco today, and even more excited because Mom (and Dad) are arriving tomorrow to spend some time in California! The whole family is super excited to catch up and celebrate Dad's remission from lymphoma! Mom and I have some fun quilty things planned, too!
Last week's poll was all about PAPER PIECING.
I was surprised that we didn't have a single "No" response! I know some people can be intimidated by the paper piecing method, so this was definitely a surprise to me.
This week's poll is all about BINDING!
Most quilts and quilted home decor projects made today use binding to finish the edges. But how you get that binding, can be something of a debate. Fabric for binding can be cut either on the bias or straight on the grain. Cutting binding on the bias gives the fabric more stretch, which can be useful when attaching it to any kind of curved edge, but you also have to handle it more delicately to keep from distorting the fabric. I usually cut straight on the gain because I just find it easier and I'm lazy! I also know that I'm never cutting exactly on the grain, so I know my binding will still have some of the bias benefits.
So this week we're asking, "How do you cut your binding?"
How do you cut your binding?
On the bias
Straight on the grain
It depends on the project
And now, onto the link-up!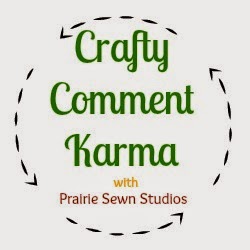 An InLinkz Link-up
Don't forget! Countdown to Christmas starts on Monday, October 5!
Sign up for our newsletter to be sure you get each project delivered straight to your inbox, along with a link to the PDF download!
Subscribe to our newsletter mailing list!
Join the newsletter