Written by Laura Chaney, daughter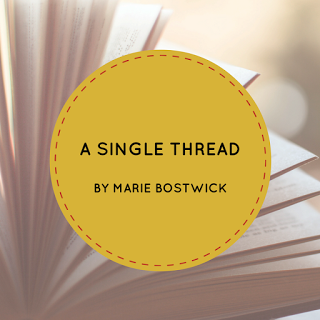 Today we're kicking off our new series, Fiber Arts Fiction Friday (FAFF) with one of my absolute favorite works of Fiber Arts Fiction: A Single Thread by Marie Bostwick. This is the first book in the Cobbled Court Quilt series.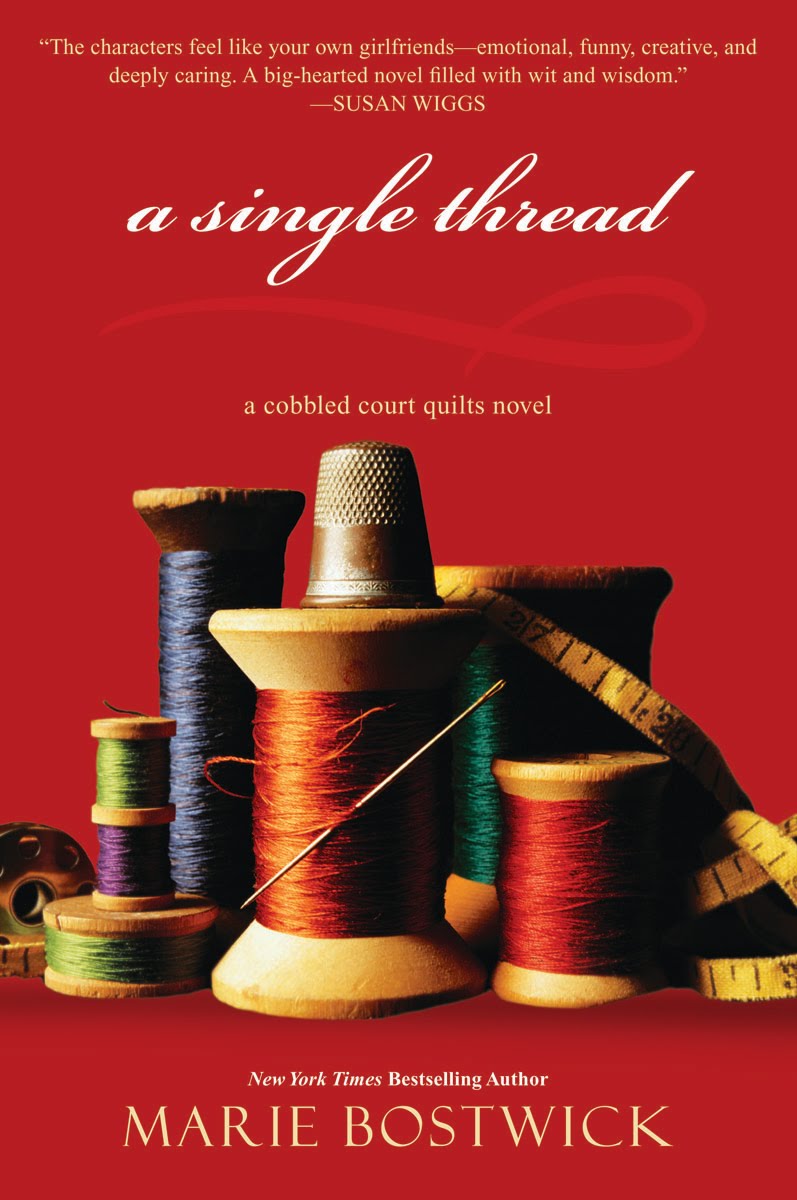 Summary:
This novel is the first in the Cobbled Court Quilts series, which follows a fun and personable cast of characters who live in the quaint New England town of New Bern. We're introduced to New Bern and its residents through the eyes of Evelyn Dixon, a longtime quilter who is looking for a fresh start and decides to open her own quilt shop, Cobbled Court Quilts.
Through her experience as a new business owner and a quilter, Evelyn builds a life for herself in New Bern, facing hardships and triumph along the way. Each chapter allows a peek into the world of her new friends, demonstrating that life can be both hard and wonderful for each and every person, despite their social stature or life circumstances. By the time you've finished the book you'll wish you could go visit New Bern and stitch away an afternoon with Evelyn and her friends.
My Thoughts on This Book:
Reading this book was a major turning point in my life when I first read it in 2008. I had a lot of difficult things going on in my life, including a recent move and new job, plus a very seriously ill family member. I felt like everything was going wrong, and that I was pretty much failing at life. This book gave me hope that even when things are hard, they will get better. It can be easy to feel like we're stuck, without any hope of a better future; this book helped me move past that mentality. I actually own this book both on my Kindle and as a paper book and it's my go-to novel whenever life feels like its getting me down.
In 2009, Mom and I went to our very first American Quilter's Society Paducah Quilt Show and discovered that Marie was on the schedule. She gave a great talk about how her quilting helped her get through some tough times, and was incredibly generous with her time. Mom and I have been fortunate enough to connect with her several other times at quilt shows, and each time it's a reminder of what a genuine, talented and support person Marie is.
Marie's brought a bit of the Cobbled Court community and her own passion for quilting online with her Cobbled Court Quilt Circle Facebook group!
And now for the giveaway.
I truly do love this book. So much that I have a (gently used) copy to give away to one of our readers. Just complete the form below to enter the giveaway and sign up for the Prairie Sewn Studios newsletter.
The Fine Print 


This giveaway is open to U.S. residents aged 18 years or older. This giveaway is for a gently used copy of A Single Thread by Marie Bostwick. Neither Marie Bostwick nor her publisher are sponsoring this giveaway; I just loved this book so much that I want to spread the quilty cheer. This giveaway will be open from January 20, 2017, through 12pm midnight Pacific Time on January 24, 2017.